(Last Updated On: September 16, 2023)
You just adopted your first cat and are trying to get all the accessories they will need. One such item you come across in your research is cat window perches. The name and design have you a bit concerned. After all, there's not much to keep your cat from falling to the ground if the suction cups fail!
Can a cat sit on that platform and not hurt themselves?
What if they jump up to it and miss?
What if my cat weighs too much?
Which perch is the best option, considering they come in thin stretcher-like options, to others resembling flatbeds or round barrels. They can even be a cage-like platform that allows air in from the outside.
However, the ones that this will focus on throughout this report are the most common stretcher and bed-like perches that attach to your window.
These perches tend to be the safest and provide more of a view to the outdoor scene from your window than the barrel-like ones do.
Are Cat Window Perches Safe?
It is not a question of whether the perches are safe in general. Not every perch is safe for every cat.
The question is really how well they accommodate your particular cat's height and weight. Some can hold cats that weigh up to 50 pounds, which is extremely heavy for a cat.
And, If you travel frequently or full-time, some are made for car windows.
You want to ensure that your perch is sturdy, durable, and safe for your cat. You don't want it to be swinging so much that it could break your window, injure your cat, and your cat escapes outside.
You also don't want it to be vulnerable to cracking and falling on the floor. Either of the above may be enough to scare your cat from perches for the rest of its life.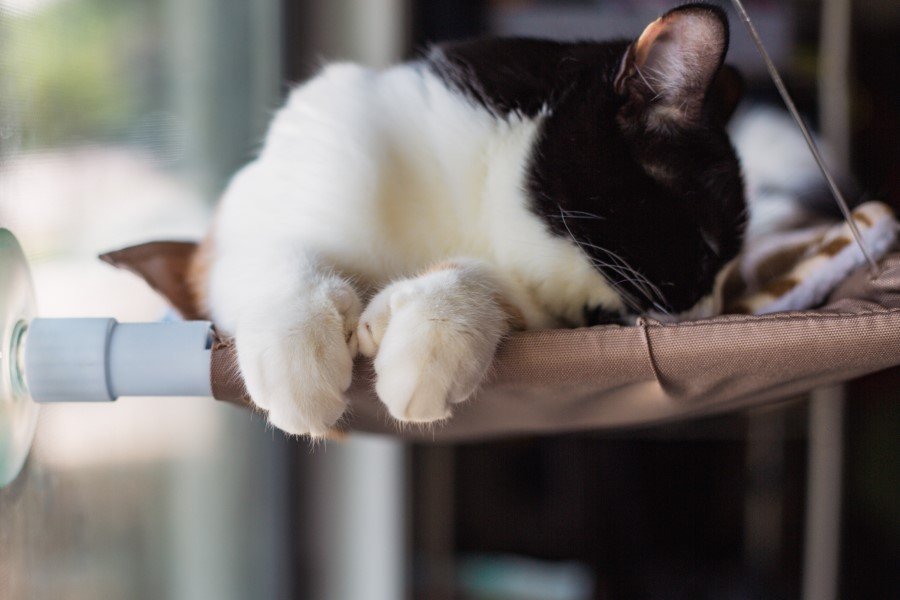 Cat Window Perches – Our Top 10 Picks
This 22x12x1.5 platform fits one light to average weight cat. It is attached to the window by four suction cups. Be sure that the surface that you attach the cups to is clean. Dust and dirt weaken their hold. If yours does have issues with constant falling, try setting them down a little, they absorb water very quickly.
The platform is made from a PVC pipe and covered in machine washable oxford cloth. The cord is also made of PVC; thus, they shouldn't break if your cat bites them. The cord length is 23 inches, and you will not need to remove it to close your blinds.
The reviews so far have received four out of five stars. We found one takeaway from the comments: to ensure you measure your window to verify this will fit as the manufacturer instructs. Again, remember the company also says light to average weight cats, so if you have a larger feline, this might not be the right one for you.
This 22x12x1.5 bed is long enough to fit two cats at a time. It is machine washable, but the recommendation is to hand wash this for the information we found to maintain the Oxford cloth it is manufactured from. This is great for your cat to rest on even in the dead of winter and transitions nicely to summertime heat with the breathability of the construction materials.
This comes with two replaceable suction cups that hold up to 60 pounds. The hanging dimensions are 29.5×21.5. The manufacturer recommends putting a few heavy objects on the bed after installing them to strengthen the cups.
The reviews so far have given it four out of five stars. Some have said that it will fit cats up to 15 pounds. The negatives appear to be the smell when first installed and the suction cups wear, which might be considered when looking at this product.
Selify's Cat Window Hammock is designed to hold up to 60 pounds. The pad is made from sturdy materials secured by steel clips and stainless-steel cables with a comfortable rubber. The fleece cushion is machine washable, and the mesh base prevents falling and chemical odor. The manufacturer emphasizes attaching the suction cups to a clean and dry glass surface.
The reviews have given it four and a half out of five stars. One reviewer who owns a 10-and 16-pound Bengal states that they both fit on it very nicely. Again the suction cups can be finicky and do wear, so this is with any suctioned devices should be taken into consideration, and having extras on hand a possible solution.
Kitty Sill is designed to be one of the sturdiest perches on the market. The oval-shaped pad and fleece-made from faux lambskin and orthopedic foam-is intended to provide extra comfort for your cat. It is reversible and washable. Instead of suction cups, you nail the bottom bolster stands into the window. It supports over 40 pounds.
The reviews have given it four and a half out of five stars. One owner with a wooden sill said that the nails hold very well into the wood as well. Most have said that it is genuinely sturdy. One thing that makes K&H unique is that they come in many versions.
If you live in a cold climate, there's a heated one. If you have two or more cats, there's one with two levels. If your cat likes to cuddle up on a bolster, there's one that will fit on bolsters as well.
This 14×231/2 hammock is designed to hang on the glass that is a minimum of 25×21. The frame is made of PVC plastic. Aside from glass, it is designed to attach to mirrors and other non-porous surfaces. However, I wouldn't recommend attaching the mirror because cats think they see another cat, get aggressive, and damage the perch.
The suction cups weigh 12 pounds each, and the cot is designed to hold up to 25 pounds, so this is not for super-heavy cats. It is designed to work either outdoors or indoors. The hammock is made out of robust black nylon called Tiger Mesh.
The reviews have given it four and a half to five stars. It can hold two cats if they're both under 20 pounds and have some great feedback to glean other nuggets of information before deciding.
The K&H Pet is a two-level box-like mesh screen perch. It hangs downward by two nylon straps and in place by a total of six suction cups to be pushed and turned. It can also be easily folded to close the blinds and curtains. The covers are easily removable and washable and can hold up to 100 pounds. It comes with a one-year warranty. The frame is made of reinforced sturdy steel for longevity.
The reviews have given it a four and a half out of five stars. Even cats that chew cable has reportedly not been interested in the nylon straps. Of course, there are some drawbacks you can see from reviews, but it definitely is a strong contender in our lineup of cat perches.
The LSAIFATER is 20.4×11.81 and designed to hold up to 50 pounds. The support height is 11.81. It is made of durable iron and steel. The rugged fabric mat is removable, is waterproof, but easy to clean, and dries quickly. Unfortunately, it cannot be folded when you close your blinds or curtains.
The reviews have given it a four and a half out of five stars. Seventy-five percent of the reviewers have given it five out of five stars. It can hold chubby cats, and several customers specifically say this is an excellent alternative to top tethered perches. This one has velcro and suction cups that will require replacement and proper positioning to work best, which should be considered in your decision-making.
The NOYAL comes with two spare suction cups. The pad is made of breathable Oxford cloth and plastic. It's designed to keep your cat cool in the summer and warm in the winter. It is 21 1/4×12 5/8×1 ½. It is designed to hold cats up to 30 pounds and can be cleaned by hand washing. The four suction cups are 3.3 inches.
The reviews have given it four out of five stars. Remember, you can add a blanket or other items to cozy up your cat's perch. Additionally, the construction of this one might be a bit more in-depth so take a close look during your research to see if this is a good fit for your home.
The K&H EZ Mount Penthouse is designed with a secure built-in ledge. The mesh windows are designed for an optimum outdoor viewing experience. The fleece micro plush pad is removable and can be machine washed. The top is also lined with microfleece to make for a second comfortable resting place. Its dimensions are 25x19x9.5, is collapsible, and can be removed easily. It comes with a one-year limited warranty. The cups are designed to attach to any clean window.
The reviews have given it a four and a half out of five. At least one owner has said that all three of their cats can fit into it well, and the additional screw support option provides ample support. If your cat is a jumper, be sure to test after securing to ensure the unit's stability for your cat. They will test out their new home, so ensure they can do so with you supervising to ensure it is secured before leaving them to their own devices.
The MQ's manufacturer recommends trying to put on some heavy objects for an hour when you first install it. That way, the suction cup use will be strengthened. They also say that soaking the cups in hot water for two minutes will help retain their force. This prevents them from failing in low winter temperatures.
The cups are made from high-quality PVC material and can hold up to 50 pounds. The mattress is made up of breathable Oxford cloth, which means that your cat shouldn't overheat in the summer or freeze in the winter. If you are not completely satisfied, the manufacturer will provide a refund, no questions asked.
The reviews have given the MQ four out of five stars. There have only been 78 reviews so far. However, 58 percent have given it a five out of five stars. Twelve percent have given it one star. At least one has said that it's easy to close curtains around it.
Another has recommended using alcohol on the rims of the suction cups. However, it does not seem to be as well-built for cats that are obese. Most of the complaints relate to the suction cups not holding up.
Is a Cat Window Perch Right for Your Kitty?
As you can see above, a cat perch can be an excellent investment for your cat. It helps them to observe their surroundings from a safe distance. Most dogs are comfortable staying on the ground level.
Cats, since they're smaller, need a boost to watch things from an upper level. Since they love to hunt and the outdoors is like their television, many are content watching the scene from a bolstered perch.
One common problem seems to be the suction cups not holding up well. As a result, I would advise trying alcohol, Vaseline, or cooking oil on the rims if washing it in lukewarm water and keeping your windows clean doesn't do the trick.
Keep in mind that the cups also seem to tolerate a specific temperature range. Washing them in hot water for two minutes allows them to tolerate cold temperatures better. With a little bit of prep work, you and Fluffy will be enjoying their new cat perch in no time.
Other Alternatives Are Both DIY and Purchased  
If the suction cups fail just once while your cat is in the perch, they might never try it again.  This leads to a dilemma and some individuals do construct their perches using cloth and hooks that attach to the inner or outer surface of a window.
Since we are discussing perches and have discussed cat trees, there is an alternative to the window sling that combines a cat perch and a tree.
With five-star ratings, this might be one to try out, as felines get stubborn when something scares them and might not use a perch ever again if it fails.  Sometimes with cats, it is better safe than sorry as they can become skittish fairly quickly!
This type of perch solves both the cat tree problem, takes less space, and provides a hammock-like perch.  Worth a look if a cat is skittish, to begin with, or you are skittish about suction cups and wondering what type of cat tree and/or hammock to purchase.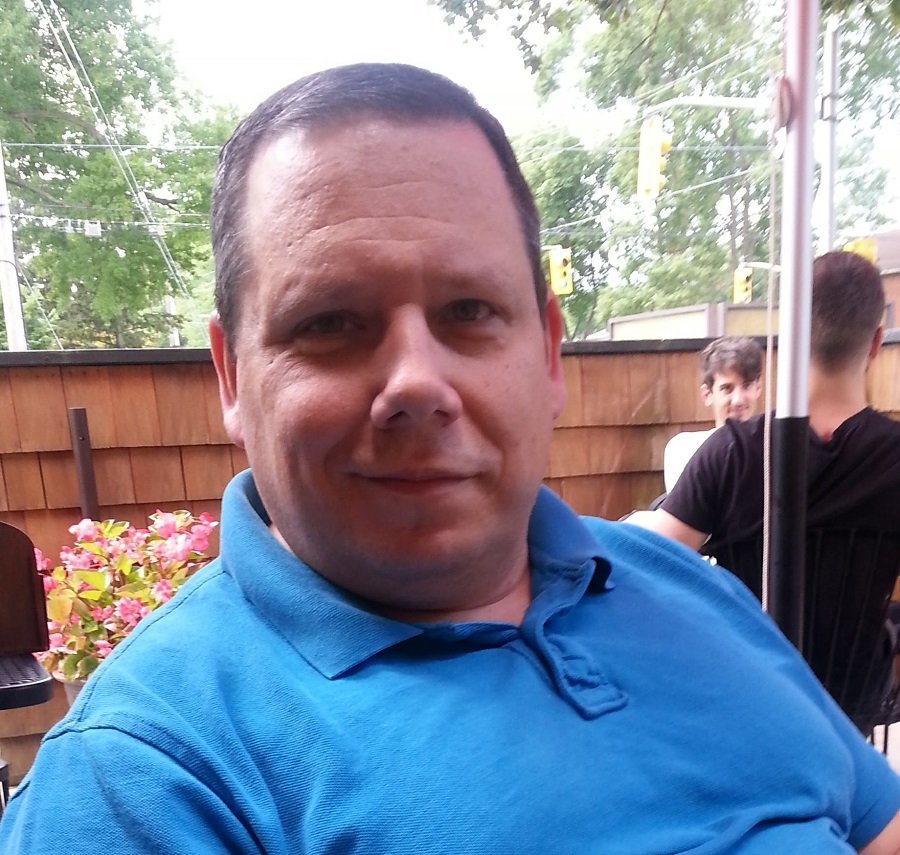 Jonathon Hyjek is an entrepreneur and cat-lover. He is married to Joy and they share their home with their 2 feline-friends, Franklin & Ollie. Jonathon is a self-admitted "Crazy Cat Guy". He started this website because of his love for his own cats and their well-being.